Posted on 12/11/2013 10:51:00 AM.
Louisiana moves up one spot in a national ranking for healthiest states, but the pelican state is still ranked near the bottom. United Health Foundation ranks Louisiana 48th in overall health. Dr. Rhonda Randall, senior health advisor for the United Health Foundation, says a high prevalence of physical inactivity is one of the state's biggest challenges.
United Health Foundation, Louisiana
---
Posted on 12/11/2013 6:00:00 AM.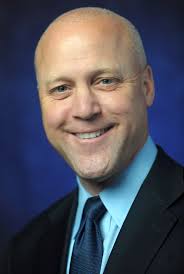 Qualifying for elections for city offices in New Orleans begins today, including the race for Mayor. Democrat Mitch Landrieu is certain to want another term as mayor, but might he also choose to run for Louisiana Governor down the road? Political analyst and "LAPolitics.com" publisher John Maginnis says the 2015 Governor's race will be "wide open" and Landrieu could run, and continue to be Mayor Landrieu if he happened to lose.

Mitch Landrieu, Mayor of New Orleans, Governor of LA, John Maginnis
---
Posted on 12/10/2013 5:51:00 PM.
Christmas is just two weeks from today, and time is running out to get packages sent - if you want to be sure they arrive on time. Federal Express spokesperson Shea Leordeanu says it's best to get your packages sent, because wintery weather can cause shipping delays.
(graphic courtesy of Federal Express)

Federal Express, holiday packages, Christmas
---
Posted on 12/10/2013 5:08:00 PM.
A Louisi

ana Congressman expects we'll hear very soon that U-S Senator David Vitter will run for governor in 2015. Vitter sent an email to supporters last week that said he's considering a run for the governor's mansion. US Representative John Fleming of Minden told 710 KEEL in Shreveport that he believes Vitter has already made up his mind.
John Fleming, 710 KEEL, David Vitter
---
Posted on 12/10/2013 4:07:00 PM.
The mayor of Pineville says his house is a total loss after it caught fire Tuesday morning. Mayor Clarence Fields' Chief of Staff, Rich Dupre, says it's a devastating loss to somebody everyone in the city knows so well and is so close to.

"But he's a strong man and not only did he have neighbors that were helping him recover whatever he could from the house, but also a strong church family and community family that's rallying around him right now and that's what we're all gonna do," Dupre said.

More
pineville mayor, clarence fields, rich dupre
---
Posted on 12/10/2013 2:01:00 PM.
Authorities make an arre
st in the investigation of an alleged rape that occurred in a portable toilet on the LSU campus while the Tigers were playing Texas A-and-M. LSU Captain Cory Lalonde says DNA left at the scene helped them identify 32-year-old Albert Carlos Ford as their suspect and he was arrested in his hometown of Atlanta, Georgia.
---
Next Entry