Posted on 6/27/2017 5:08:00 PM.
Jimmy D. Long Sr. School of Math, Science, and the Arts is the new official name of the Natchitoches high school, as the governor signed the bill adding the name of the late state lawmaker to the school's title. Delhi Senator Francis Thompson authored the legislation. He says it's not a big change, but it's an important change.
More
Francis Thompson, Jimmy D. Long, LSMSA
---
Posted on 6/27/2017 4:50:00 PM.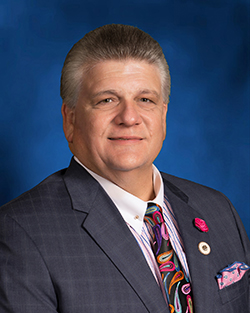 Governor John Bel Edwards vetoes a bill to provide freedom of expression on college campuses. In his veto message, Edwards said the legislation by Alexandria Representative Lance Harris was a solution in search of a problem. But Harris says freedom of speech is under siege on many college campuses around the country.
More
Lance Harris, John Bel Edwards, freedom of speech, colleges
---
Posted on 6/27/2017 1:36:00 PM.
Michelle Southern reporting.
A House Resolution out of the recent legislative session calls for the State Health Department to study the feasibility of increasing the age to purchase tobacco products to 21. It's by West Monroe Representative Frank Hoffman who says one of the things they want the state to examine is the impact of being more mature before you can buy smokes.
smoking, frank hoffman, minimum age
---
Posted on 6/27/2017 12:07:00 PM.
Lawyers representing Alton Sterling's children have filed a wrongful death lawsuit against Baton Rouge, it's police department and police chief and the two white police officers who were involved in last summer's fatal shooting of the black man. Attorney Chris Stewart says a culture of racial bias among Baton Rouge cops fueled the shooting.
Alton Sterling, lawsuit, racist behavior, Baton Rouge Police Department, Chris Stewart, Michael Adams
---
Posted on 6/27/2017 11:12:00 AM.
This year's Fourth of July gas prices are the lowest since 2005. Senior petroleum analyst Patrick Dehaan with GasBuddy.com says prices have been sliding over the last few weeks. He says believe it or not, prices at the pump are lower now than they were on January 1.
More
Patrick Dehaan, GasBuddy.com, gas prices, Fourth of July, travel
---
Posted on 6/27/2017 10:29:00 AM.
Tiger fans will soon have a new brew of their own, as Louisiana's own Community Coffee gears up to launch an LSU Blend full-bodied special dark roast coffee. Community Coffee spokesperson Jodi Conachen says the Baton Rouge based company wanted to honor its roots. She says fans of the purple and gold will love the new LSU Blend.
More
Jodi Conachen, Community Coffee, LSU blend, LSU
---
Next Entry