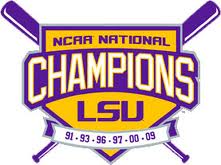 Texas Tech's Tanner Gardner singled off the leg of LSU pitcher Hunter Newman and that allowed the winning run to cross the plate and gave the Red Raiders a 5-4 victory over the Fighting Tigers.
It was a reflex by Newman, if he didn't kick the ball, it would have been an easy ground out.


Newman suffered the loss and gave up one run in 2.1 innings pitched.
LSU had a 3-1 lead when Antoine Duplantis hit a two-run single in the 7th. Duplantis was the only Tiger to have multiple hits on the afternoon.
But the Red Raiders scored 3 runs in the bottom of the 7th off of Tigers reliever Todd Peterson who gave up his first three runs of the season.
LSU tied the game at 4 in the top of the 9th inning when pinch runner Beau Jordan scored on a wild pitch.
LSU is now 9-3 after going 1-2 in Houston. The Tigers have a busy week coming up, they host San Diego on Tuesday, travel to McNeese State on Wednesday and host Witchita State this weekend for the final non-conference series of the season.