Posted on 11/13/2017 4:33:00 PM.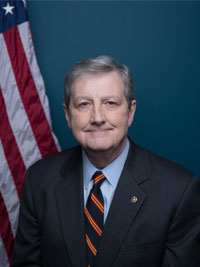 U.S. Senator John Kennedy has written an op-ed piece to the Washington Examiner entitled "Please stop having children you aren't willing to raise." In the piece, Kennedy implores parents that if they are drug users or if the child would be born to a fatherless house, to think twice about bringing lives into the world.
More
Washington Examiner, John Kennedy, children, parents
---
Posted on 11/13/2017 3:30:00 AM.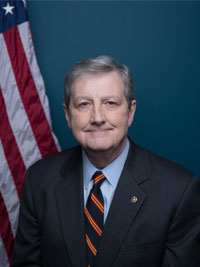 This week, two years from now, voters will cast their ballots for Louisiana's next governor. Current Democratic Governor John Bel Edwards is planning to run again. Pollster Bernie Pinsonat says Republican Attorney General Jeff Landry could challenge Edwards and tensions between the two continue to escalate. He says expect GOP leaders to keep attacking the governor on various issues.
More
Bernie Pinsonat, John Kennedy, Governor, John Bel Edwards
---
Posted on 11/1/2017 1:38:00 PM.
When it comes to popularity in Congress, both of Louisiana's US Senators rank right about in the middle, according to a new Morning Consult poll. US Senator John Kennedy is ranked 39th out of 100 Senators, and Senator Bill Cassidy was number 62.
US Senate, John Kennedy, Bill Cassidy, Joshua Stockley, ULM, Morning Consult
---
Posted on 10/22/2017 4:21:00 AM.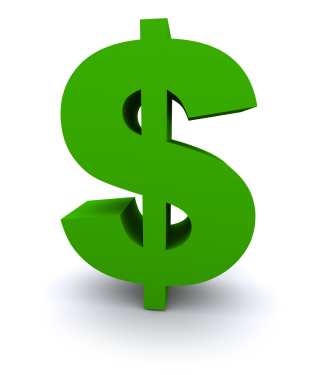 The Louisiana Republican congressional delegation believes tax reform legislation can be passed this year. U.S. Senator John Kennedy says a bill has yet to be drafted, but he supports an across the board personal income tax cut, starting with the middle class.
"If we do this right and let people keep more of their money, people will see higher take home pay, we'll have more jobs, we'll have productivity go up, which will cause wages to go up," Kennedy said.
tax reform, President Trump, Clay Higgins, John Kennedy
---
Posted on 9/27/2017 2:37:00 AM.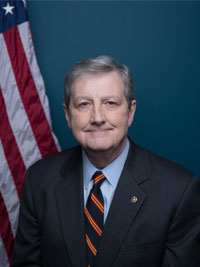 Michelle Southern reporting.
Now that Senate GOP leaders have decided not to vote on a bill that would repeal Obamacare, Louisiana's Junior Senator John Kennedy says it's time for Congress to focus on tax reform. He says cutting taxes is the only thing will get the economy moving again.
"We ought to be growing our economy at about 3% a year," said Kennedy. "Right now it's about half that. And in America today, government is growing faster than our economy."
John Kennedy, Tax Reform, Congress
---
Posted on 9/19/2017 11:55:00 AM.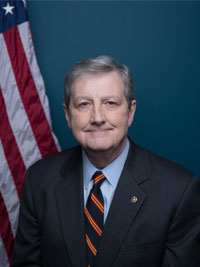 U.S. Senator John Kennedy supports his fellow Louisiana lawmaker's health care bill to repeal and replace the Affordable Care Act. Kennedy says he plans to vote for U.S Senator Bill Cassidy's measure but it can be better. He says for example, Cassidy's legislation gives states the choice if they want to impose a work requirement.
More
Affordable Care Act, John Kennedy, Bill Cassidy, reform
---
Posted on 9/8/2017 5:21:00 AM.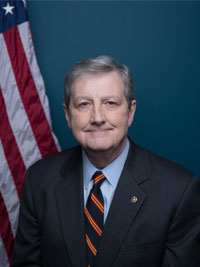 Both of Louisiana's US Senators voted to appropriate $15 billion in disaster aid for victims of Harvey, which nearly doubles what President Donald Trump requested. Junior Senator John Kennedy says this federal funding will help our neighbors grapple with the destruction Harvey left behind.
More
John Kennedy, Hurricane Harvey, FEMA, disaster aid,
---
Posted on 8/31/2017 2:50:00 AM.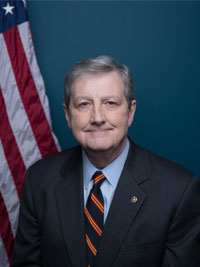 Congress will be tasked with reauthorizing the National Flood Insurance Program once lawmakers reconvene in September. This has become an even bigger priority as hundreds of thousands of homeowners cope with the flood waters left by Harvey.
More
John Kennedy, NFIP, flood, insurance,
---
Posted on 8/7/2017 11:07:00 AM.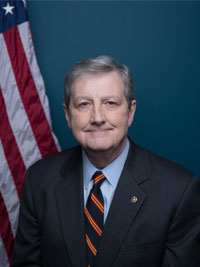 Congress has recessed for the summer and many lawmakers are disappointed not much was accomplished. U.S Senator John Kennedy believes some good was done with the approval of Neil Gorsuch to the Supreme Court. But he says his biggest disappointment was the failing to repeal and replace Obamacare by one vote.
More
Congress, John Kennedy, Neil Gorsuch
---
Posted on 8/6/2017 7:18:00 AM.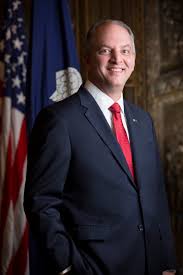 Two years from today, candidates will be qualifying for the governor's race. So who will challenge Governor John Bel Edwards? Political analyst Bernie Pinsonat says Republicans are waiting to see what US Senator John Kennedy will do.
More
Bernie Pinsonat, John Bel Edwards, John Kennedy, election
---
Next Entry