Posted on 10/18/2018 12:25:00 PM.
Governor Edwards says the state is putting an additional $7 million into prisoner rehabilitation and education programs. Edwards says the funding comes from the savings the state has seen since reforming its criminal justice system last year and the dollars should have an impact.
More
Gov. John Bel Edwards, Criminal Justice Reform, Orleans Parish, Caddo Parish, East Baton Rouge, St. Tammany, Jefferson Parish
---
Posted on 8/23/2018 11:55:00 AM.
A Shreveport woman recently found out she was granted a divorce even though she was not seeking one. Caddo Parish Sheriff's Office Spokesperson Cindy Chadwick says the news came out of the blue for the woman.
More
Caddo Parish, Divorce
---
Posted on 7/26/2018 11:05:00 AM.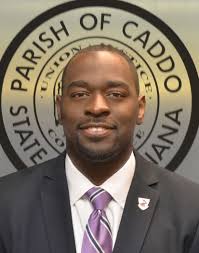 A federal judge has allowed for the removal of a Confederate monument in front of the courthouse in Caddo, after dismissing a lawsuit filed by the Daughters of the Confederacy, who said the monument sat on private property. Caddo Parish Commissioner Steven Jackson says it's a step forward for the community.
More
Caddo Parish, Confederate monument
---
Posted on 2/24/2018 4:00:00 PM.
Caddo Parish Sheriff Steve Prator is asking the Caddo Parish School Board, to allow some faculty and administrators to carry guns on campus. Most Caddo Parish schools have a security guard or a resource officer, but he feels it's not enough. Prator says schools are an open door to criminals with weapons.
More
Caddo Parish, Sheriff Steve Prator, Jackie Lansdale
---
Posted on 2/12/2018 12:25:00 PM.
A Shreveport woman was arrested and charged with exploitation of persons with infirmities and felony identity theft after an investigation by Caddo Parish deputies. 37-year-old Dorothy Edwards was a caregiver for a disabled 65-year-old-woman and is accused of stealing more than 20,000 dollars. Spokesperson Cindy Chadwick says it was a long con.
More
identity theft, Caddo Parish, Shreveport
---
Posted on 10/5/2017 12:07:00 PM.
Caddo Parish Sheriff Steve Prator is extremely concerned that criminal justice reform measures passed during the last legislative session will allow for the release of some extremely dangerous criminals in November. Prator says 192 felons will be released early from prison next month in Caddo Parish. He says Louisiana does need some reform but,
More
Caddo Parish, Steve Prator, criminal justice reform
---
Posted on 8/21/2017 4:58:00 PM.
Michael Tyler, better known as Louisiana rapper Mystikal, has turned himself into authorities in Caddo Parish after a warrant for his arrest was issued over the weekend. Sgt. Paula Farquhar with the Shreveport Police Department says Tyler along with a 26-year-old Texas man have been charged with first degree rape. She says an investigation was launched into a sexual assault last year.
More
Mystikal, rapper, rape, Caddo Parish, Paula Farquhar
---
Posted on 4/4/2017 2:19:00 PM.
A man who gunned down and murdered his longtime-partner and prominent business woman in Northwest Louisiana will spend the rest of his life behind bars. Caddo Assistant DA Brittney Green says a jury found 59-year-old Mark Colby guilty of second degree murder in the death of 53-year-old Angela Godley.
Mark Colby, Angela Godley, Brittney Green, Shreveport, Caddo Parish, Shreve Island, Noble Tavern
---
Posted on 2/7/2017 3:17:00 AM.
State Superintendent of Education John White travels to Caddo Parish to host a public meeting tonight to discuss recommendations on improving struggling schools in Shreveport.
More
John White, Caddo Parish, BESE
---
Posted on 7/13/2015 8:38:00 PM.
Five parishes that were impacted by flooding from the Red River have been declared a federal disaster area. The declaration means federal dollars will be available to local government agencies in Caddo, Bossier, Grant, Natchitoches and Red River.
GOHSEP, Red River, Caddo Parish, Bossier Parish, David Vitter, Kevin Davis, President Obama
---
Next Entry