Posted on 9/6/2018 6:39:00 AM.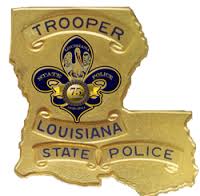 An OMV employee at a Baton Rouge office has been arrested after allegedly overcharging customers. 25-year-old Dequsha Jackson of Sunshine was charged after a Louisiana Office of Motor Vehicles supervisor reported possible fraudulent charges to police.
Senior State Police Trooper Bryan Lee says these crimes were detected after wary customers took action.
More
Louisiana State Police, Office of Motor Vehicles, Bryan Lee
---
Posted on 8/14/2018 4:27:00 AM.
29-year-old Brittany Mackie of Prairieville is charged with a multitude of crimes for a fatal hit and run that killed 31-year-old Christian Martinez of Kenner, who was walking on LA-73 in Ascension Parish Monday morning.
State Trooper Bryan Lee says multiple tips from the public helped them track down Mackie.
More
Bryan Lee, Christian Martinez, Brittany Mackie, Ascension Parish
---
Posted on 7/2/2018 12:43:00 PM.
State Police is reminding motorists about the three-foot rule when passing bicycles following a fatal wreck on Saturday in St. Francisville that killed avid bicyclist and East Baton Rouge Metro Councilman Buddy Amoroso. Senior Trooper Bryan Lee says 21-year-old Nicholas Alexander of Lafayette failed to reduce his speed and move over when he attempted to pass Amoroso and another bicyclist on LA 66.
"When you are passing you must allow them at least three feet when you are going around. Mr. Alexander did not do any of that."
More
Buddy Amoroso, Bryan Lee, Nicholas Alexander
---
Posted on 1/17/2018 11:09:00 AM.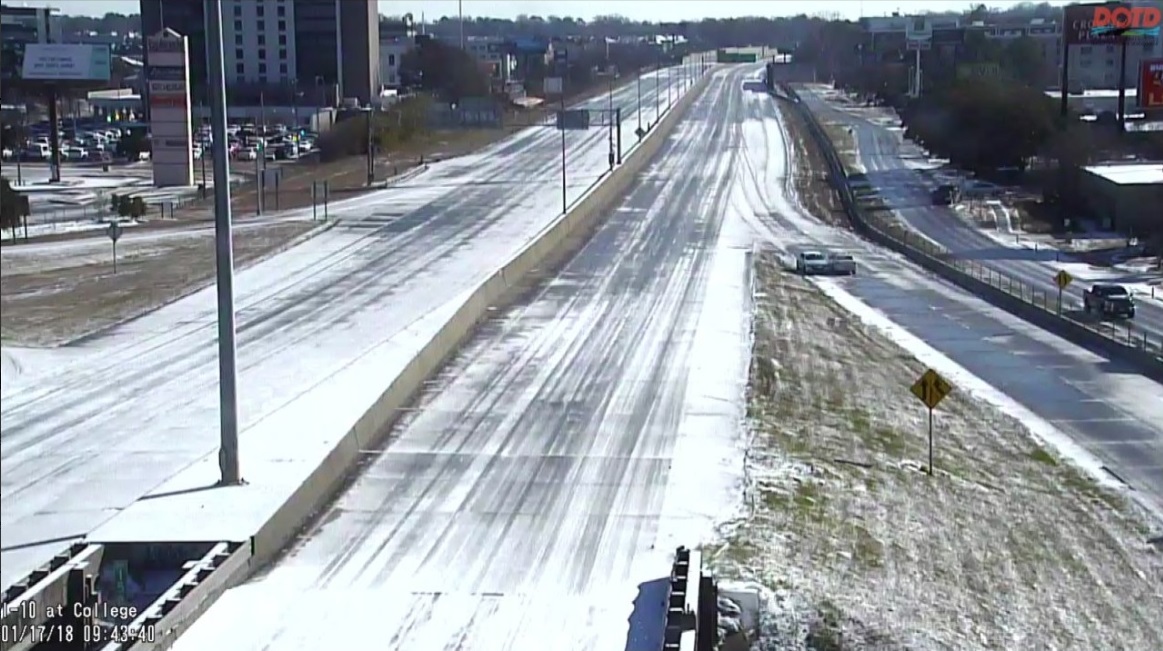 Needless to say the icy road conditions are something Louisianians are not familiar with, but there are still motorists out who are required to be at work. State Police Senior Trooper Bryan Lee says based on the number of crashes they saw in a short period of time this morning, plenty of people can't handle a vehicle on the ice. (pictured is I-10 in Baton Rouge @ College Dr.)
bryan lee, rodney mallett, ice, dotd, state police
---
Posted on 11/14/2017 1:53:00 PM.
State Police is investigating an officer involved shooting in which they say a Baton Rouge cop shot and killed a man during a struggle when escorting a state child welfare case worker. Senior Trooper Bryan Lee says, despite rumors circling social media, the man who was killed was not handcuffed when he was shot.
Calvin Toney, Bryan Lee, State Police, Officer involved shooting
---
Posted on 6/14/2017 10:14:00 AM.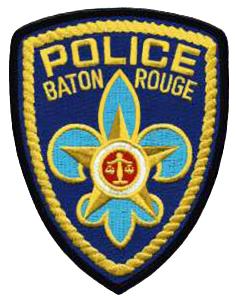 A suspect has died as a result of another officer-involved shooting in Baton Rouge. That's according to State Trooper Bryan Lee, who says Louisiana State Police is investigating the incident. He says the deadly encounter began when Baton Rouge Police conducted a traffic stop just before midnight.
More
Bryan Lee, BRPD, LSP, officer involved shooting
---
Posted on 6/1/2017 2:00:00 PM.
State Police say they have arrested the man who allegedly struck and killed a 12-year-old boy during a police chase. Trooper Bryan Lee says they were called to investigate at the request of BRPD when officers were conducting a possible narcotics operation.
state police, joshual hilton, bryan lee, sammy lee
---
Posted on 5/19/2017 10:07:00 AM.
Three people were found dead in an Ascension Parish bayou by their own family member. State Trooper Bryan Lee says the family had not heard from 23-year-old Thomas Jones, 22-year-old Austin Kiernan, and 19-year-old Sydney Persac of St. Amant after they went out Wednesday night.
More
Bryan Lee, Austin Kiernan, Thomas Jones, Sydney Persac
---
Posted on 5/5/2017 10:34:00 AM.
A Zachary man has been arrested after making threats against law enforcement on Facebook. The post referenced the DOJ's decision not to bring forth charges against the officers involved in the Alton Sterling case, saying "It's time Baton Rouge u didn't learn from the police killing." State Trooper Bryan Lee says State Police was informed about the post made by 38-year-old Thallemus Thomas.
More
Bryan Lee, Thallemus Thomas, BRPD, Facebook
---
Posted on 4/20/2017 1:55:00 PM.
State Police say charges are pending in the case of a fiery 5-vehicle, 18-wheeler involved crash on I-10 in West Baton Rouge Parish that claimed the life of a man from Alexandria. The victim is identified as 26-year-old Ronald Allen. Trooper Bryan Lee says traffic began slowing in the eastbound lanes near Port Allen around 5:30 Wednesday.
bryan lee, ronald allen
---
Next Entry