Posted on 10/19/2015 12:49:00 PM.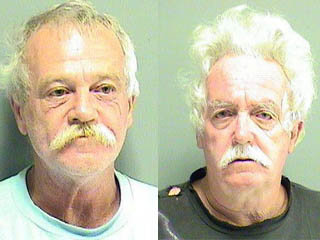 The St. Tammany Parish Sheriff's Office says two brothers are under arrest in connection with the murder of Nanette Me'Shell King whose dead body was found in a burned car near Sun.
Sheriff Jack Strain says the victim's ex boyfriend, 53-year-old Gary Harris, allegedly murdered her -- and his brother, 64-year-old Ray Harris, helped him cover it up.
"And when you see the case presented, you'll be able to see how calculating these individuals were," said Strain.
Strain says investigators believe that after the breakup from a 20-year relationship, Gary Harris talked King into coming back to their house on September 20th to talk about how they were going to divide their property -- and it was there that he murdered her.
He says the story is disturbing.
"After he killed her..the steps that he took from the very second she died, to cover his crime," said Strain.
Gary Harris is charged with second degree murder and Ray Harris accessory after the fact. Strain says they believe that after Gary Harris murdered King, he moved her body to the car, which was found burned out, several weeks later. He says it was discovered last week the steps the Harris brothers took to cover this up are appalling.
"It's cold and calculating and almost shocks the conscience," said Strain.
sun, gary harris, ray harris, st. tammany parish sheriff's office, Nanette Me'Shell King,
---