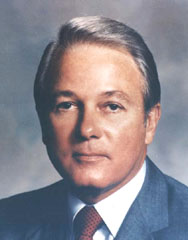 Michelle Southern reporting.


Former 4-term Louisiana Governor Edwin Edwards says he's made up his mind, but is not ready to announce he's running for

Louisiana's 6th Congressional District in November

. The Silver Fox says he recognizes the challenge he'd face.



"Never-the-less that is not going to deter me with proceeding with the decision I've made," Edwards said in a phone interview.

The seat Edwards seeks is being left open by the Republican incumbent Bill Cassidy who is running for US Senate.

Edwards, an ex-con who will be 87 in August, says he realizes his age is something voters would need to consider.

"But I hope that people would have the opportunity to view me as a man who is still able to move around fine, I don't have any disabilities and my mind is clear," said Edwards. "To me 80 is the new 60."

Edwards spent eight years in federal prison after being convicted of corrupting the state's gaming license process. His youngest son to wife Trina Scott Edwards is 6-months old, 20 pounds and Edwards says is as precious as can be.

Edwards says he is very disappointed about the lack of action currently coming out of Washington D.C.



"And I feel that now is an appropriate time for someone who has some experience in legislative matters to try to help make things work up there," Edwards said. "One thing is certain, I can't make it any worse."